26 October 1958 - December 4, 2020
Bassam Saba was a world-renowned virtuoso, multi-instrumentalist, and leading figure of Arabic music. Saba was born on 26 October 1958, in Tripoli, Lebanon to a house full of musicians, where he learned to play nay, violin and oud. Days and nights were spent singing and playing classical Arabic songs with his mother and father and many mostly older siblings. He woke to fruit trees pushing into his bedroom window with violin in hand, making melodies with the song birds as he stared out among the fields, while his father's oud upon the couch swapped from hand to hand.
The mornings he could hear his father and mother singing, mingled with the smell of coffee and zaa'tar manaqeesh in the oven. After breakfast, he would take his nay out into the yard and play, looking out over the misty hills and tree tops.
As a teenager, his days were split between school and the Lebanon National Conservatory, where he formally studied nay, 'ud and violin. The Lebanese Civil War interrupted this picture of peace and musical serenity, when he and his family were forced out of their homes and sought safety. He and some of his brothers fled to Beirut.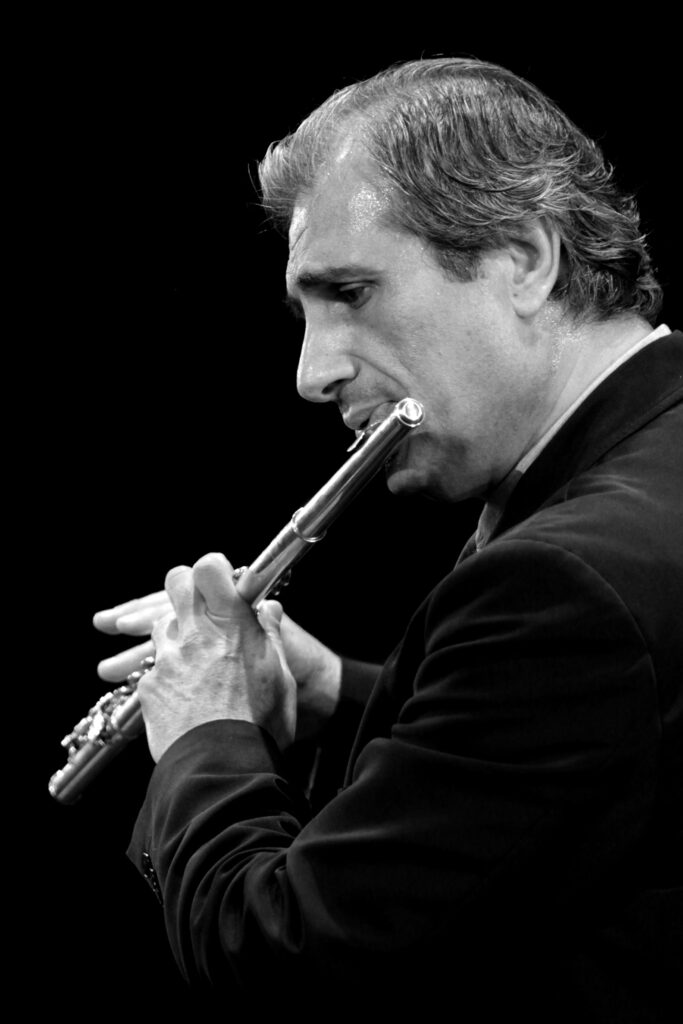 All communication was lost and he could not inform his mother of their safety. In 1976, he fled Lebanon to Paris where he studied music at the Conservatoire Municipal des Gobelins in Paris, where he earned his BA in Western Classical Music and Flute Performance. It was not until Bassam performed on a radio show in France did his mother know that he and his brothers were alive and well. Upon completion of his degree, he returned to Beirut where he worked with Ziad Rahbani, son of Fairouz, recording some of his most famous albums underground at Notta Studio in Beirut, as bombs littered the streets above. He fled Lebanon again to Tashkant, Uzbekistan, learning Russian and fought his way into the prestigious Gnessin School in Moscow where he received a master's degree in Western Flute Performance and Music Education. 
Thereafter, he began to tour extensively with Fairouz's orchestra and Marcel Khalife's Al-Mayadeen ensemble, met with massive audiences spilling over ancient amphitheaters around the world. Crushed by the early death of his beloved father, he finally left Lebanon In 1990, relocating to the United States and ultimately settling in Northport, New York.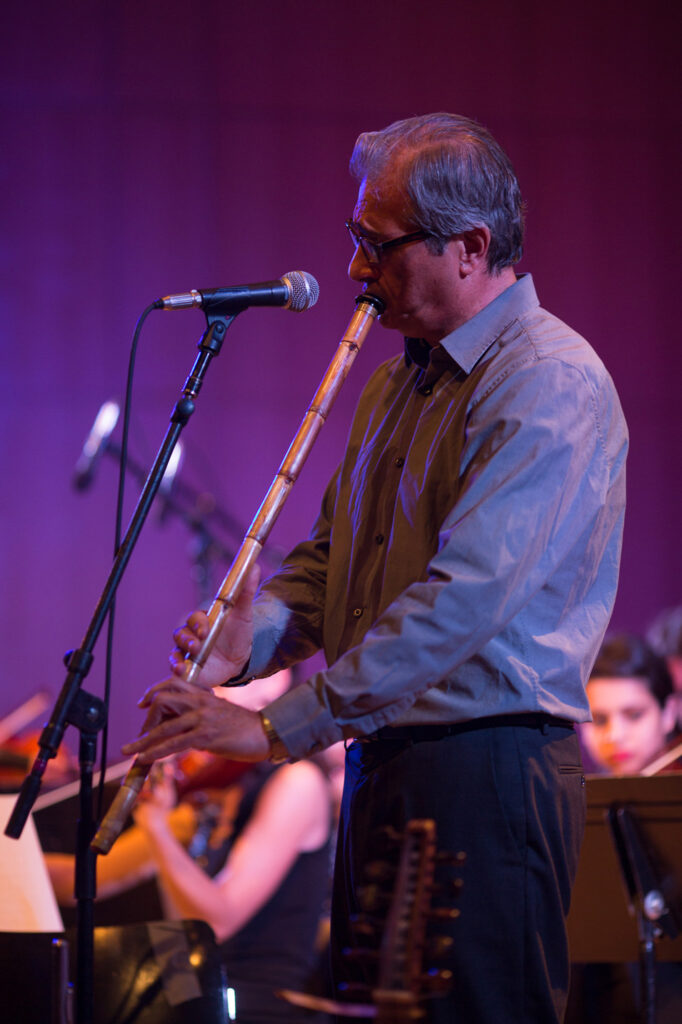 For decades, Saba continued to perform as the principle nay and flute player with diva of the Arab World, Fairouz; Marcel Khalife in Al-Mayadeen; Simon Shaheen in Al-Qantara and the Near East Music Ensemble and Yo-Yo Ma's Silk Road Ensemble. Over his career, he performed and recorded with pop stars such as Sting, Alicia Keys and Santana, jazz icons such as Herbie Hancock and Quincy Jones, and was an honored soloist for the Hanover Philharmonic, Qatar Philharmonic, Beirut Philharmonic, Zurich Orchestra and East Oakland Bay Symphony, among others.
Regarded as a top educator of Arabic music in the world, his private and workshop students numbered in the thousands and spanned the world. His dedication to education, whether as artistic director of the NY Arabic Orchestra, as workshop leader at conferences, retreats and universities, or as a private teacher seeing his weekly students in NYC, shook the hearts and minds of so many, changing lives, birthing new paths for people who discovered the beauty of Arabic music through him, who changed the course of their lives to pursue a new art, who once suffered and found a new healing. He was a vessel and messenger of an ancient art, and perhaps a fallen soldier, in a world which both revered and feared who he was. In 2018, he took the prestigious seat of Director of the Lebanese Conservatory in Beirut. There, he passed away on December 4, 2020 due to Covid complications, shortly following a massive chemical blast, and amidst an economic crisis, depriving him and his family of deserved compensation for his almost 3 years of service. He is survived by his loving family, his wife Diala Jaber, and daughter, Mariana Saba.
His legacy lives on through the NY Arabic Orchestra, the home and delivery of his dream to affect massive change, to touch the lives of millions with the pure beauty of Arabic music, to change the face and embrace of Arab culture. As he was, the orchestra has but one agenda, and that is culture, ancient and true, which speaks a language that all human beings understand deep within their hearts; that unites, even for one moment, activating a chord in us all that is beyond fathom, beyond differences and learned fears, to a space of love and eternal spirit. 
Read about Bassam in the New York Times: